Indian I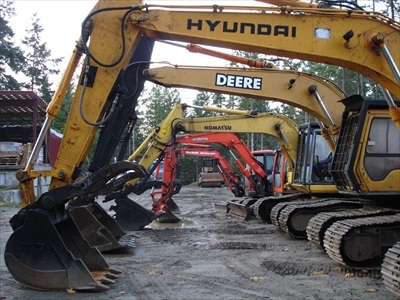 sle Construction (1982) Ltd. is an excavating/trucking company started in the early 1960s by Frank White and taken over by his son Don White in 1982. Don has since built the company up to be one of the biggest excavating companies in the area.
Indian Isle Construction has a broad range of equipment allowing us to offer our customers a start-to-finish service. We are very experienced in land clearing, excavating, rock work, landscaping and trucking.
It seems that almost everywhere you dig on the Sunshine Coast you have to deal with rock, so in 2005 we started adding rock hammers to the fleet. We now have four. In most cases we can deal with any rock without having to wait for blasters. Using rock hammers is cheaper, faster and safer than blasting.
Indian Isle Construction also offers a full range of trucking services. Not only do we have dump trucks but we also offer roll-off bins in sizes ranging from 12 to 40 yards. Roll-off bins are a very economical way to deal with land-clearing debris as a 40 yard bin can carry three times as much as a dump truck.
Our equipment line also includes excavators of various sizes, four sizes of rock hammer,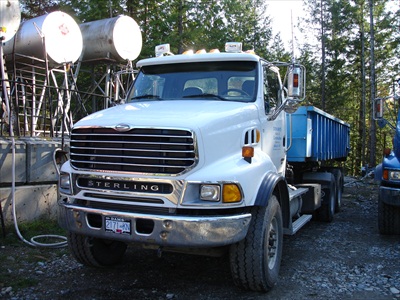 direct-drive Samurai flail/shredder mower, Kubota SVL track loader, Sterling dump truck, Sterling truck with roll-off system, mid-size 4x4 Sterling Bullet truck with multiple attachments, two sizes of grader, Cat D5G XL Tractor, D5H Cat tractor, packer, and a backhoe. You can visit our equipment gallery here.
We also offer other services such as site preparation, road and driveway building, road grading, drainage, water lines, septic fields, demolition and snow clearing.
Our Sunshine Coast service area includes Port Mellon and Langdale to Gibsons, Sechelt, Halfmoon Bay, Roberts Creek, Pender Harbour, Egmont and Earls Cove.
This is the part where all the other guys promise to show up promptly and do the job on budget and on time. But in reality excavating is a business full of unknowns. As soon as you start digging things change. All I can promise is to do your job to the best of my abilities and to work with you to achieve the best result.
Don White
PO BOX 119, 12672 Lagoon Road, Madeira Park, British Columbia | 604-883-2747